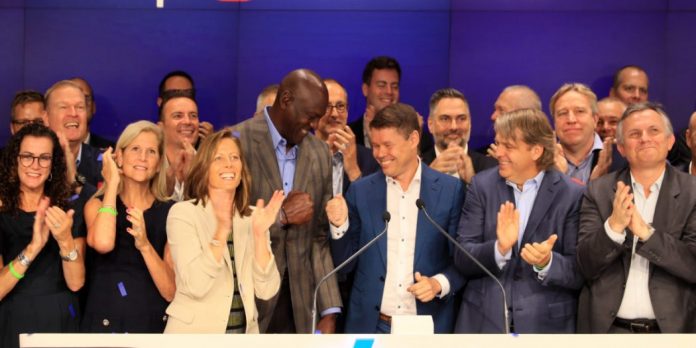 Sportradar has detailed continued progress in its corporate strategy as a public enterprise, as its revenues in the first quarter are bolstered by North American market growth.
The Switzerland-based firm, which completed its Nasdaq listing in November, reported a year-on-year revenue increase of 31% to €167.9 million (2021: $186.4 million).
Revenue growth was achieved across three main segments – RoW Betting, RoW Audiovisual (AV) and the US – which experienced increases of 25% to €86.7 million, 17% to €45.9 million and 124% to €25.7 million respectively.
"Our fiscal 2022 is off to a fast start, with core, high-margin betting products driving growth around the world," said Sportradar CEO Carsten Koerl.
"Our US business continues its tremendous growth story as more states legalise and sports betting becomes live, mainstream entertainment."
RoW Betting earnings were primarily driven by increases in sales of Managed Betting Services (MBS) and Live Data/Odds Services by 51% and 16% each to achieve revenues of €26.4 million and €46.8 million.
Looking towards the US, Sportradar pointed to the rapid expansion of the legalised betting market in the country alongside its acquisition of Synergy Sports, a rise in sales to media outlets as driving segment growth by 124% to €25.7 million.
Stateside developments also had positive implications for RoW AV performance due to upselling of content from the Synergy acquisition and the firm's partnership with the NHL, whilst outside the US its deal with Tennis Australia also strengthened its position.
However, Sportradar did also close the quarter with a reduced EBITDA of €27 million, a decline of 5% on the Q1 2021 figure of €28.2 million, due to corporate expenditure of €71 million.
This included higher personal costs of €52m for new tech recruits across all departments, as "employee headcount increased by 620 to 3,075 full-time employees at the end of the first quarter of 2022".
Further operating expenses increased by €5m to €19.5m compared with Q1 2021 trading, with costs "associated with being a public company, and the reversal of temporary COVID-19 related cost savings versus the prior year".
Accounting for increased expenditures, Sportradar maintained profitability, declaring period profits of €2.3 million (Q12021: €8.2m) However, the company maintains its 2022 financial outlook, targeting an expected revenue in the range of €665-to-€700 million, combined with an adjusted EBITDA range of €123-to-€133 million.
Koerl concluded: "As the market leader, our technology and data-driven insights continue to transform the converging media, entertainment and sports industries and fuel our consistent and long-term profitable growth story."