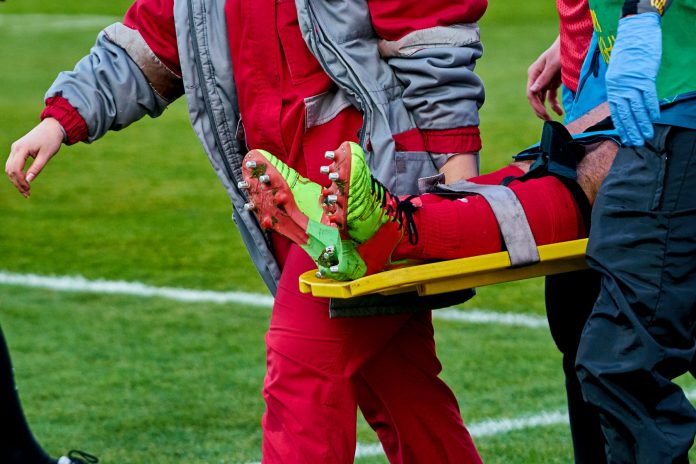 A study undertaken by Catapult Sports, in conjunction with 21st Club, into the cost of injuries has uncovered that English Premier League (EPL) clubs paid an estimated £166m to injured players throughout the 2018/19 season. 
The figure, which equates to 14% of the fixed wage expenditure across the EPL, saw both Manchester clubs contribute the most to the total with Man United paying £20.7m and champions Manchester City spending £23m on injured players.
Within the report it is stated that "professional players suffer 25-35 injuries per 1,000 hours of match exposure, giving the game an injury risk factor more than 1,000 times greater than other 'high-risk' industries. As the physical demands and financial stakes continue to increase, those injuries can be difficult to mitigate and often come with a significant cost."
21st Club works with over 100 teams, leagues and associations globally whereas Catapult delivers wearable technology, athlete management and video analysis solutions to support performance optimization, injury risk mitigation and return-to-play operations. 
The study also revealed which players cost their respective clubs the most money during their injury layoffs. Both Manchester clubs again led the charts, however, in this instance the roles were switched as Kevin De Bruyne of Man City (£5.23m whilst injured) registered behind Alexis Sanchez of Man United as the Chilean pocketed an estimated wage in the region of £6.4m during his 128 day injury spell.
As well as financial value, the study has also revealed the performance cost of injuries to a club in regards to league points. In this aspect, runners up Liverpool FC led the way by some margin in relation to the rest of the league with the club expected to have seen a 2.25 decline in points if its two best players were injured for half the season – Champions Manchester City could have expected an estimated decline of 0.9 points. 
Other stats uncovered in the research included:
– The average cost of an injury during the 2018/19 EPL season was an estimated £200k in fixed wages.
– Players missed a total of 18,230 days through injury in the EPL last season.
– The average EPL player missed 8% of the campaign with injury.
– According to 21st Club's Player Ratings, Tottenham suffered the most key high-quality player injuries last season, with Erik Lamela, Harry Kane and Dele Alli all missing at least 30% of the season.
– Wolves had the lowest cost of injuries during the season – £0.7m