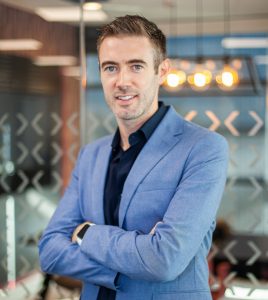 After Kindred Group's online casino brand 32Red announced that it would be reinvesting into Derby County FC's 'Team Talk' programme, Insider Sport caught up with the operator's General Manager, Neil Banbury, to discuss how the company is in a 'unique position' to educate football fans about mental health through its sponsorship model and how the Gambling Act review might affect this.
IS: Firstly, you've talked about 'reinventing sponsorship' – a lot of betting brands receive negative press and the sheer amount of gambling companies' logos on the front of football jerseys has been criticised of late. How do you aim to go about re-shaping these attitudes through these types of initiatives?
NB: There has been a lot of coverage about the industry and its relationship with football and sport – some of which is a little unfair. Many football fans in particular understand the role that responsible betting and gaming companies play in supporting the sport – and that betting and football has a natural relationship, with millions enjoying a flutter on the sport they love.
But sponsors and clubs are also in a unique position to do more to make sponsorship truly benefit the whole community of a football club, and promote healthier, safer gambling through our activation. 
At Kindred, we have done this through our new model of sponsorship that benefits clubs and their communities. Our investment in Team Talk that supports men with their mental health – as well as our innovative use of talent such as Wayne Rooney and Carl Frampton to promote safer gambling messaging – forms a key part of our model. 
IS: You highlighted the importance of both club and community as well. How involved are you in the foundations and trusts of the four clubs (three in the EFL Championship and one in the Scottish Premiership) that you sponsor?
NB: The teams involved with the Community Trusts at our partner clubs are absolutely fantastic. Their dedication and commitment to improving their local area is inspiring. So we do not need to become involved with the day-to-day running of the project and instead leave them to continue to work hard for the people they are helping every day!
IS: The 2005 Gambling Act review is on the horizon, too. What are your thoughts towards that and how will it affect your relationships with football and sporting clubs?
NB: We are looking forward to contributing to the Gambling Act Review and welcome the debates it will bring – whether on sponsorship, or any other topic. We know there will likely be a call for evidence, as well as an opportunity for consultation with a wide range of voices, and we are keen to ensure that is the case.
By bringing in voices from across the spectrum, ensuring it's evidence-based and is focused on tackling the real issues that the industry has rather than headline grabbing, then hopefully we'll move to a better position. Generally, the perception across the biggest operators in the UK is that we all want to be part of the solution.
IS: Do you think it's the way that you use your position as a sponsor and as a firm that will decide the outcome of the review? For instance, Team Talk is one of the ways in which betting operators can act as a force for good.
NB: I think the review will need to take in views from across the spectrum. The government will want to hear from a range of people and organisations, but we are confident that the way we conduct our sponsorships through our new model sets a good example about how things can be done. But ultimately, we are keen for evidence and facts to lead the way and ultimately help to decide the outcome of the review.
IS: If betting operators were to be prohibited from partnering with football clubs, do you believe it would be damaging to initiatives like Team Talk who rely on the funding of sponsors to achieve their goals?
NB: A ban on an industry that supports the sport in such a strong way would clearly have a huge impact – both in terms of initiatives we support but also the broader football pyramid. As the EFL have recently said, the significant contribution betting companies make to the ongoing financial sustainability of professional football at all levels is as important now as it has ever been due to the COVID-19 pandemic.
As we have said before, it would also not have the desired effect that those who support it wish for. It would remove the industry from the public's eye at the very moment that responsible operators like Kindred are developing innovative and effective ways to communicate healthier gambling behaviour to adult audiences. 
We think there is a role for licensed, responsible operators to be able to sponsor and advertise in the UK, with that same level of access to opportunities restricted for those who do not meet that criteria. 
A ban would put all of that work to waste and instead mean that safer gambling messaging through responsible activations is no longer possible, driving people to become less educated about the tools available to stay in control. 
IS: Mental health, particularly within sport and football, is always a hot topic of discussion. How do you hope to contribute to this in your involvement with Team Talk and combat the stigma surrounding the issue?
NB: There are clear signs that using sport and football can act as an effective way to engage working class men and address mild mental health issues. Sponsors and clubs are in a unique position to reach men – and particularly working class men, who are more likely to be football fans – using the power of football.
Last year, we released 'Tackling the Stigma' – a ground-breaking report that revealed the scale of the struggle facing working-class men and their mental health in the UK. The report showed that over four million working-class men are suffering in silence with their mental health – more likely than other groups but also less likely to be aware of symptoms and to seek help. But their passion for football – higher than other groups – offers a route to receive the support they need.  
So businesses with sustainability at their heart have an important role to play in that, which is why we have reinvested in Derby County's Team Talk scheme. We support the football industry through our sponsorship, and we are clear in our continued ambition to make sponsorship truly benefit the whole community of a football club, tackling important issues like men's mental health in an effective way.
IS: Is this an area of interest that you'd like to expand and invest more into initiatives like Team Talk?
NB: Absolutely! We'll be doing more with other clubs, both in terms of Team Talk but also our wider commitment to reinventing sponsorship so it utilises the unique cut through with adult audiences to promote healthier gambling behaviour too.
IS: Finally, do you think other betting companies should and might follow your lead?
NB: I would like to see a higher bar required from gambling brands looking to get involved in sport in the UK. For me, companies that have a genuine and deep commitment to the UK will always have a greater incentive to use sponsorship for good instead of simply seeing it as a way of getting their logo in front of fans. 
Because a greater commitment to ensuring sponsorship benefits clubs and communities – as well as promotes safer gambling behaviour – should sit at the heart of all licensed, UK-focused operators' approach to sponsorship.