Football is one of the biggest sports in the world, with Premier League clubs generating an estimated £1.55 billion in commercial revenue for the 2019/20 season, according to Deloitte. 
However, 2020 has seen more football clubs transition into the virtual world by investing in the esports sector, whether that be through marketing campaigns or creating a competitive gaming brand.

Speaking at ESI Digital Summer, James Gallagher-Powell of CSM Sport & Entertainment, a global integrated marketing and brand experience agency, explained why the world of esports is so enticing to football clubs.

"Why do football clubs and esports even make sense at all? So the reasons are fourfold. Firstly to attract a younger audience," Gallagher-Powell stated. "In terms of this younger audience, I'm sure that many of you have seen the stats before, probably from a brand sponsor perspective. So why do brands think about sponsoring an esports property over traditional sports property?

"The average age for a Premier League fan is 42 and rising, and no doubt is higher than 42 within developed fan markets like in the UK. This ageing fan base begs two questions to football clubs: How do the clubs ensure their longevity and remain relevant to the next generation of sports fans? And how do they ensure that their club remains attractive to potential sponsors?

"Esports can provide the perfect channel for this. It's a way that clubs can attract a younger audience to their core operations, i.e football, and it can help clubs to safeguard their future popularity and therefore their future profitability."

As Gallagher-Powell discussed, esports has a much younger demographic, compared to other traditional sports. According to the presentation, the average audience for esports is 26, which is nearly double that of the NFL (50).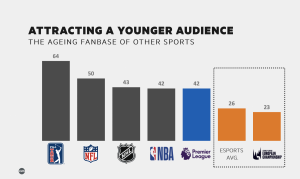 Already, teams such as Schalke 04 have highlighted the possibility of creating an esports division after successfully launching a League of Legends team whilst also being prominent in other games. This has allowed the club to creates potential revenue streams whilst globalising its brand,
Gallagher-Powell added: "Esports can also act as a bit of a hedge against future decline in footballing revenues. The long term bull view on esports is they will have parallels with the growth in franchise value that we've seen in traditional sports over the last 20 years, we're expecting significant growth on all revenue streams across sponsorship, broadcast, and merchandise.

"Buy-ins in the last few years for some of the major franchise leagues have ranged from 10 million to 50 million, which is a fairly similar price to what European football cup valuations were 20 years ago."

The topic then shifted on to how football clubs can use esports to benefit its operations, with Esports Insider co-founder and managing director Sam Cooke honing in on two specific approaches – esports as a marketing tool and the 'all in' approach.

Cooke commented: "The way that we did in terms of football clubs entering the space, is there's the 'all in' approach and there's the esports as marketing approach, what we mean by esports as a marketing approach can be best shown we think by the case of Manchester City.

"City have been in esports for a while, longer than most big football clubs. To date, FIFA has been by large and first and foremost absolutely their focus. So they've had Various FIFA players over the past few years across the City Football Group's teams.

"It's an extension of the existing football brand with a younger fanbase than they might typically have with just football and play future-proof themselves within that as well.
"The flip-side somewhat so that is the PSG case. Which is certainly more costly, but what PSG have done in eSports quite broadly today is generally at least one of the few examples I use when showing football clubs the full potential of what they could gain and what they could benefit from for being involved in in esports, as we see here, there in Dota, they're in FIFA, for sure, but they're in Brawl Stars, they're in League of Legends."

CSM Sport & Entertainment's account director Debs Scott-Bowden highlighted the benefits of teams using sports-specific titles as an easy transition for clubs wanting to launch a competitive gaming brand, similar to Cooke's example with Man City.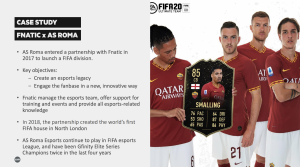 However she did warn that, unlike other genres, football games are considered quite niche and so teams would not benefit from attracting as much of a global audience, compared to more traditional esports.

She explained: "Real life football and esports football complement each other really well commercially. So the graphics and FIFA and PES provide clubs an additional output for their commercial partners. For example, Manchester United offering adidas and Chevrolet visibility through FIFA gameplay is an additional form of exposure to those sponsors.

"But whilst FIFA and PES are good entry points for clubs to go into esports, for the wider esports communities, these titles are largely considered niche. So for clubs looking to reach a wider audience, football games aren't necessarily the best route to achieve this."

The panel agreed that if a football club is looking to branch its own esports division, as opposed to using it as a marketing tool to bring in younger audiences, then the way forward would be to jump into titles such as League of Legends, CS:GO and Apex Legends. However, to do so would require not only determination to break into the sector, but the desire to put resources into the industry.

"Clubs like Schalke, PSG, and FC Copenhagen to name a few, they've created eSports operations across a range of titles like League of Legends, Dota, Pub G, Fortnite, CS and others," Gallagher-Powell commented. 
"This route is naturally higher risk than the ones that Debs and Sam have run through, but potential benefits are considerably greater. Firstly, the non football or non sport titles are the most watched and most followed with fan numbers that dwarf that of FIFA or Rocket League. If a club wants to attract a large number of new fans, naturally, they're better off using games with the largest followings.

"Greater levels of commercial viability come with operating in the biggest titles. So brand sponsorships in FIFA, or non tier one and tier two games often struggle to monetise. And this is in comparison to the seven figure sums that are now changing hands in the tier one titles.

"The cost of operating these titles is significantly higher. You need upwards of you know $30 million for franchise fees now and player salaries. Salary costs in League of Legends and CS:GO dwarf everything in FIFA, you could probably run a whole FIFA operation with the salary of just one top League of Legends player."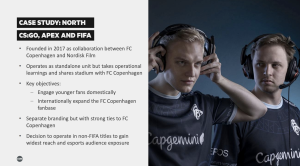 In the end, the presentation did not discount any of the options that football clubs could use esports as an advantage, with every option having its own benefits. Nevertheless, what was showcased is that there seems to be more of a willingness than ever before to invest in the industry.

Whether that be by using the FIFA ePremier League to create a sports-specific division in the club, using titles as a way to attract a younger demographic, or even creating a separate esports entity to branch into traditional title akin to the success Copenhagen has had with North.