Verizon is hoping to make this year's 2021 Super Bowl LV into a game like no other by bringing 5G to the Raymond James Stadium – a decision which will help create a blueprint for the 'stadiums of the future'.
Speaking to Insider Sport, Brian Mecum – Vice President of the telecommunications company – disclosed how they plan to transform the fan experience of the flagship sporting event.
This year, Super Bowl LV organisers have enlisted Verizon to elevate the fan experience and ensure the National Football League (NFL) annual championship game is accessible to fans watching within the stadium or watching along at home.
On Sunday 7 February, the Tampa Bay Buccaneers will take on the Kansas City Chiefs, becoming the first NFL franchise to secure a spot in the Super Bowl on home turf.
Utilising the telecommunications company's in-stadium solutions, the Super Bowl will deliver a fully immersive and interactive viewing experience, with Verizon investing $80 million in Raymond James Stadium to expand permanent 5G deployments.
"In a COVID environment, we had to think about how you allow people to relate to, experience and be a part of the game when, in fact, only 25% of the stadium will be full," Mecum explained.
"We brought 5G and millimetre waves – a high bandwidth with low latency – to the Super Bowl last year. We had a camera down there and put 5G on the map with regards to broadcasts.
"This year, it's the stadium of the future. It has more 5G and more radio capacity than any stadium ever built in our lives. We also have mobile edge computing technology and tied to all of that radio capacity, you can do things you've never contemplated."
Earlier in January, it was confirmed that attendance for the Super Bowl would be set at a total capacity of 22,000, including 14,500 ticket buyers. The remaining 7,500 tickets were distributed to healthcare workers in the US to celebrate their commitment to their profession throughout the COVID-19 crisis.
Those in attendance will have access to augmented-reality overlays and a range of different camera angles to access instant replays via the 5G SuperStadium mobile application, giving fans the chance to become the referee.
Mecum continued: "When these people come in, they'll get a chance to tap on the app and when they download the app, they'll see something called the 5G SuperStadium. 
"For example, if you wanted to see something happening in the red zone – the final 10 yards where you're trying to score – but let's say you're too far up in the stand or you want to see the other side of the field, with our super stadium app and millimetre wave, we can send out seven streams of HD content right off the production truck.
"You're able to see the game on the big screens and the smaller ones at any one moment. You can tap and it will switch and put the view that you want to see on the big screen. If there's a really exciting play such as a touchdown, you can tap on that and replay it, so you can rewind, scrub and change which view you're looking at.
"That's personal and puts the power of the game in fans' hands. You couldn't do that without millimetre wave or mobile edge computing."
The implementation of 5G within the venue will also aid crowd control measures and help to prevent the spread of the virus. This year's edition of the Super Bowl will be completely cashless with the help of Visa, and Verizon will bring face recognition and contact-free merchandise purchases to customers and consumers.
"COVID is advancing and nudging everybody along to take action and move faster than they would've without COVID," Mecum remarked. "Sometimes, we have ideas but we aren't sure if the public is going to like it or not.
"Getting fans in quickly is the goal. We're working with Zyter and using their ThermalAlert Cameras which allows you to screen and speed up temperature scans when you have 5G. Say you're a season-ticket holder, you can pick up your phone, share a facial and send it to them.
"In the future, you won't have to fumble for tickets – your face is your recognition and you can just go in. That fast-lane type access with no touch is very good in a COVID environment but also, even not in a COVID environment.
"The other thing is touchless merchandising. We're working with a company called Wicked. This gives fans the ability to go in and buy a beverage or a snack, and pay and quickly get out, you need that low latency. It's friction we're trying to reduce."
Spectators in attendance will also be able to check the app to see how long waiting lines are for food and beverage kiosks and choose the best time for a bathroom break to avoid the rush.
"If you're in the stadium and you want to use the restroom or purchase some merchandise, you might want to do it at half-time and you're probably not the only one that thought of that. 
"The bathrooms and food or beverages places will be really jammed. You need computer vision, sensors and cameras to see if the bathrooms are low lines or the sales of beer, pizza or popcorn are low as well."
In addition, the Super Bowl and Verizon have introduced 'Watch Together', a free co-viewing experience in the Yahoo Sports app that allows NFL enthusiasts to watch the showdown simultaneously, as if they were sitting side-by-side at the game.
"You're in a COVID environment but you still want to chill and binge something with someone far away, and it's hard from a timing perspective to get things set off at the right time. Watch Together will synchronise it so you can react together," Mecum explained.
"If you're watching a football game and somebody scores, you wouldn't want the other person reacting if they're ahead and cheering because it would spoil it. The whole concept of Watch Together is synchronicity and you can text and talk about it. Normally you would do that in person."
The company has also created the first-ever 5G Stadium in the popular video game Fortnite's Creative Mode, which will allow fans the opportunity to interact and play alongside their NFL heroes in their absence.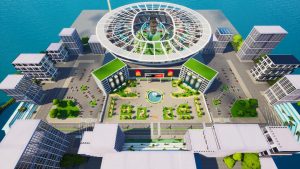 Although the pandemic has accelerated the shift towards 5G, Mecum believes that these newfangled technologies are here to stay and could even increase the value of sponsorship agreements for clubs, leagues and federations.
He concluded: "From a sponsorship standpoint, if a fan knows that they can not only get all of these things but also, they can experience what the player does live in the game, it's much more immersive than just watching them.
"Having data and analytics tied to that and having that real time, that is going to make a huge difference. The more you perform, the bigger your fanbase gets and the more sponsors you'll get!"