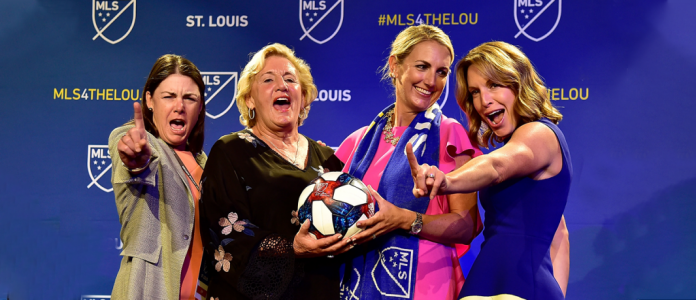 MLS has confirmed St. Louis as its newest franchise, meaning the club will become the first female majority-owned club in MLS history and one of the few in professional sports.
The club will embark on its MLS journey in 2022, in a brand new stadium located in the Downtown West district of St. Louis, the proposed stadium will be a central element to a major development project in Downtown West. 
The planned 22,500-capacity stadium (which could be expanded to 25,500), includes a promise that every seat will be within 120 feet of the field, as well as a translucent canopy that will provide cover covering for the fans while allowing light to reach the field.
Issuing a statement, Commissioner Don Garber emphasised: "It is with great pride that we welcome St. Louis to Major League Soccer. St. Louis is a city with a rich soccer tradition, and it is a market we have considered since the league's inception. Our league becomes stronger today with the addition of the city's deeply dedicated soccer fans, and the committed and innovative local ownership group led by Carolyn Kindle Betz, the Taylor family, and Jim Kavanaugh."
St. Louis has a rich soccer history and a track record for producing top level talent. Several current professionals include Will Bruin (Seattle Sounders), Joe Willis (Houston Dynamo), Tim Ream (Fulham), Josh Sargent (Werder Bremen) and Becky Sauerbrunn of the NWSL's Utah Royals and the FIFA World Cup champion US women's national team. In addition, many former MLS players are from St. Louis, including Taylor Twellman, Brad Davis, Chris Klein and Steve Ralston.
Club board member Carolyn Kindle Betz commented: "Our ownership group has come a long way since we first announced our bid last October at Mathews-Dickey Boys and Girls Club, and it's an incredible feeling to now be able to say, St. Louis is home to the first official majority female-led ownership group in MLS.
"Our MLS team and stadium will only add to St. Louis' renaissance currently underway and will provide us with a great opportunity to bring together many different segments of the community, uniting people in their love for the game."
MLS currently has 24 teams competing in 2019, with Inter Miami CF and Nashville SC joining next season followed by Austin FC in 2021. St. Louis will become the 28th team. The league in April announced plans for the league to grow to 30 teams.